By Joel Thurtell
A main — if not the only — purpose of a museum should be to teach us about the past. But Greenfield Village and The Henry Ford have missed a golden opportunity to teach about about industrial safety.
About 29 years of teachable moment wasted..
So let me fill the gap.
A friend recently invited me to visit Greenfield Village. She has a pass and goes often, so she suggested I be the guide and pick the exhibits to see. There was something in the back of my mind that I pushed further down.
We went into the glass blowing display and watched an artisan skillfully shaping a piece of molten glass. We went into the Wright Cycle Shop and watched a docent operating a wind tunnel,  demonstrating the principles of flight. I still had that ugly thing in the back of my mind.
We went into the glassware museum, and I noticed it was a few steps from the Armington & Sims machine shop. That's the magnet that was drawing me, the locus of the unpleasantness I was trying to set aside.
Well, I thought, let's go in and have a look. We walked into the 19th-century plant, passing drill presses that were powered by a steam engine via overhead drive shafts and belts.
The building was quiet. The steam engine that runs the tools was not running. I noted the metal cages surrounding the power tools. Safety features installed too late.
We stood in front of a window looking through glass at the stationary steam engine that once powered the factory.
Finally, I told my friend the story. How two visitors stood at this point looking through the glass and watched avoidable tragedy happen.
On the day of our visit, the steam engine was idle. There was a docent nearby. My friend asked him a question about the steam engine. "It hasn't been used since the 1970's," the docent told us. I corrected him. The year was 1988, I said. I then told him what had happened to a previous docent as he cleaned that machine. The docent said he'd never heard about that from museum officials.
Curious. With a little imagination, it seems like The Henry Ford could turn that awful event into a real-life lesson illustrating the need for constant vigilance to improve workplace safety.
Here is the August 22, 1988  story that I wrote, published with permission of the Detroit Free Press.
Publication: DETROIT FREE PRESS
Publication date: 8-22-1988
Edition: METRO FINAL CHASER
Headline: DANGER ON DISPLAY
Sub-Head: GREENFIELD RETOOLS FOR SAFETY
EMPLOYE DEATH LEADS TO CHANGES
BY JOEL THURTELL
FREE PRESS STAFF WRITER
Text: But a few days ago, a man fell into a large cog wheel in a distillery in
Brown County, Ohio, and was literally mashed to a jelly instantly. An outlay
of 25 cents would have prevented this awful catastrophe. Manufactories, mills
and portable machines are full of "man traps." Let us have them covered up.
— James M. Goodwin, letter in Feb. 9, 1861, Scientific American
Facing a long wait for an airplane home to St. Louis, Ellen Romkema decided to pass the long, hot afternoon of June 27 at Henry Ford's world-famous outdoor museum, Greenfield Village.
Minutes after the 31-year-old nurse walked through the museum gates, she discovered what few if any visitors ever noticed — that this turn-of-the-century American industrial village is complete with the kind of 19th Century industrial dangers that prompted James M. Goodwin to write his eloquent 1861 appeal to Scientific American.
Today, museums around the country are waiting to see what steps Dearborn's Greenfield Village, foremost in the field of working industrial museum displays, will take to ensure that the tragedy Romkema witnessed never happens again.
Through an observation window in Greenfield Village's Armington & Sims Machine Shop & Foundry, Romkema and a friend watched an elderly village employe shining a brass oil guard on the 50-horsepower C.H. Brown & Co. stationary steam engine. The Brown engine turns belts supplying power to the shop's lathes, drill presses and slotting machines.
"I pointed out, 'Look at this little guy — I bet he has been here working with engines since they made them," Romkema recalls.
Suddenly, the peaceful, almost hypnotic back and forth rhythm of the piston and the cycling of the crankshaft were gruesomely disrupted.
"He was polishing the brass guard with a loose rag," Romkema recalls. "His rag got caught in the belt and I saw his arm go in and I said, "Oh, oh, oh, oh, he's hurt. By the time I said 'he's hurt,' it had decapitated him."
The grisly accident brought Greenfield Village founder Henry Ford I's philosophy that the exhibits must authentically depict historical industrial methods into direct conflict with modern requirements for workplace safety.
A month after the accident, a report by the state Department of Labor's occupational safety and health agency, commonly known as "MiOSHA," indicatedthat August Lasanen, 85, would not have been killed if Greenfield Village had obeyed elementary industrial safety rules.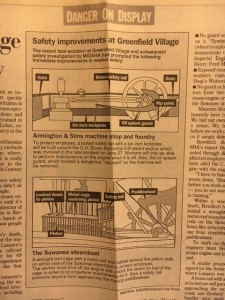 Until Lasanen's death, MiOSHA had never inspected the methods Greenfield Village used to work its antique machines, said MiOSHA Director Mark Smith.
Ironically, according to museum curator John Bowditch, it was Henry Ford himself who in 1929 placed the fatal oil guard, against which Lasanen was decapitated, on the 1890s-vintage C.H. Brown & Co. steam engine "to make it look nicer."
The day after Lasanen's death, the old Brown steam engine was unmoving, waiting for a MiOSHA inspector to check Lasanen's workplace for possible violations of state safety standards. In addition to the Brown engine, all steam-powered machinery and generators at Henry Ford Museum and Greenfield Village were stopped.
With the exception of the steamboat Suwanee, recently fitted with
OSHA-approved safety guards, the steam engine boilers have not been fired since Lasanen's death.
Word of the accident and an impending state safety report quickly reached the Smithsonian Institution in Washington, D.C., where steam-operated machines were shut down and dozens of workers were retrained in safety methods, said Steve Lubar, curator of engineering and industry at the Smithsonian.
Now, officials at the Smithsonian are waiting to see what safety methods evolve at Greenfield Village, where, Lubar said: "John Bowditch is really the most expert of anyone in the country in running 19th-Century steam engines."
The idea of putting modern safety devices on antique machines didn't sit well with some museum people.
"There's a magic about steam engines, but it doesn't happen until it's operating," said Jan House, director of the Old Courthouse Museum in Berrien Springs. "If you put a bunch of guards on them, you don't show people the real thing."
The day after Lasanen's death, John Scott, superintendent of the museum's railroad yard and Lasanen's boss, said Lasanen was a railroad steam locomotive engineer for 49 years and "just through experience he's probably done things like that many times."
Scott also defended the museum's special mission of preserving the authenticity of its exhibits without interposing any modern devices, including safety mechanisms.
"If OSHA came in and was going to treat us like any other factory, there would be a million guards and protection and just plate steel everywhere," said Scott.
Observed Greenfield Village public relations officer Margaret Johnson, "The village has been operating since 1929, and this is the first fatality we've ever had."
But Monica Lasanen, Lasanen's daughter-in-law, said the engineer's family may sue Greenfield Village. The Lasanens' attorney, Jack Bindes, said, "I don't think any worker bargains to get killed on the job."
MiOSHA director Smith said, "We don't care if you're working with a 1900 machine — you're working with a 1988 employe."
While declaring that the overall worker safety record at Greenfield Village and Henry Ford Museum has been good, Smith's office on July 27 listed three dozen violations of workplace safety regulations and levied $560 in fines.
The 1976 MiOSHA law states that the "duty of an employer is to furnish to each employe . . . a place of employment which is free from recognized hazards that are causing or are likely to cause death or serious physical harm to the employe."
According to MiOSHA, the museums violated that mandate by failing to install guards that would have prevented Lasanen from approaching the steam engine that killed him. They also failed to train Lasanen and other employes in proper safety procedures and failed to equip antique machines with foolproof shutoff systems, the agency said.
Smith said the MiOSHA inspector found a double standard of safety at Greenfield Village.
In maintenance shops out of sight of exhibits, the museums were using acceptable safety procedures, but in areas where visitors view the museums' working exhibits, MiOSHA listed numerous safety violations, including:
* An improperly and dangerously exposed flywheel on the Arthur Corliss 1888 air-powered engine at the Power Tour Museum.
* No guard and an inadequate barrier on a "flywheel exposed to contact (where) employes walk around unit (to) demonstrate to visitors" at the 1894 Imperial Engine Generator on the Henry Ford Museum's Power Tour.
* Exposed running belt and pulley near workers running the Wheelwright Shop's Wolverine drill press.
* No guard or barrier to protect operators from two exposed and moving steam engine cranks and piston rods on the Suwanee steamboat.
Museum director Bowditch said: "I honestly have to say they caught me.
We had our own lockout procedure, in a sense. We turn the machine off before we work on it. But putting a lock on it simply didn't occur to me."
Bowditch disagrees with MiOSHA's report that the "safety officer noted through discussions with these affected employes that in the past they have oiled the C.H. Brown steam engine with the engine running."
"I have to honestly tell you I never wrote down, 'Shut down the machine before you work on it,' but it was policy — you do not work on something that is running."
Within a week after Lasanen's death, Bowditch had designed and installed a wrought-iron cage with a metal roof to enclose the moving piston rods on the Suwanee steamboat. A fence-like structure also prevents anyone from stumbling into the moving paddlewheel.
To work on the piston rods, an engineer must first shut down the steam engine and lock it off, Bowditch said.
A similar procedure is being designed for the Armington & Sims shop where
Lasanen was killed.
A brass rail with a six-inch kickplate at its bottom will prevent workers
from approaching the moving piston rod, crank and flywheel as Lasanen did.
Smaller wire mesh guards will be placed around belts where they meet pulleys
at "nip points" — places where belts move onto wheels and could pinch clothing or fingers.
Since the accident, Bowditch has re-evaluated every power machine in both museums, and says none will be used again until they meet MiOSHA standards.
"It's a delicate balance — full compliance without making it look like it," said Bowditch. "But once you start thinking about safety, then you move throughout the plant."
Although MiOSHA didn't cite the village for violations where workers run antique tools in the Armington & Sims shop, Bowditch said he is now aware of many potential dangers.
He is planning to make guards for gears and belts, he said.
Jim Peters, an 85-year-old volunteer machinist, said he doubts it would be possible to make the machines safe because they were designed to be operated in a way that is, by today's standards, hazardous.
For example, Peters said, to change speed on a lathe, the worker has to move a belt to bigger or smaller pulleys while they are turning.
Bowditch said he plans to have protective boxes placed around belts and gears. Some older workers may have to be retrained in modern safety procedures, he said. As much as possible, he said, modifications will be done using 19th Century techniques.
For instance, the brass rail he plans to install around the Brown steam engine is something that would have been found in a turn-of-the-century shop.
Besides, Bowditch said, guards made of wood, wire-mesh and leather were common in the 19th Century and likely would meet MiOSHA standards today.
MUSEUMS IN BRIEF
The purpose of Henry Ford Museum and Greenfield Village is "to collect, preserve and interpret to a broad public audience the American historical experience, with a special emphasis on the relationship between technological change and American history."
The museums contain more than a million objects on 12 acres at Henry Ford Museum and 81 acres at Greenfield Village.
The non-profit Edison Institute's operating budget is $18 million a year — 40 percent from admission fees, 30 percent from food and souvenir sales and 30 percent from contributions and the institute's endowment.
The attraction brings 1.1 million visitors a year, making it the largest tourist draw in the state, said Al Sandner, spokesman for the Michigan Tourism Bureau.
The museums employ about 270 full-time workers and between 700 and 900 part-time workers, in addition to 400 volunteers.
CUTLINES (FROM DIAGRAM)
Safety improvements at Greenfield Village
The recent fatal accident at Greenfield Village and subsequent safety investigation by MiOSHA has prompted the following immediate improvements in worker safety.
Armington & Sims machine shop and foundry
To protect employes, a locked safety rail with a six-inch kickplate will be built around the C.H. Brown horizontal mill steam engine which was involved in the fatal accident on June 27. Workers will only be able to perform maintenance on the engine when it is off. Also, the oil splash guard, which created a dangerous "nip point" on the machine will be removed.
The Suwanee steamboat
A wrought iron cage with a metal roof was added around the piston rods on either side of the Suwanee steamboat to protect employes. The worker must shut off the engine and unlock the doors on top of the cage in order to oil or perform maintainance on it. Also a safety rail prevents anyone from approaching the moving paddlewheel.
CUTLINE
Visitors tour Greenfield Village, where antique machines carrying old-time hazards have killed a man and drawn fines from inspectors.
Caption:
Category:
Sub-Cat:
Date: